Skip to Content
Sports Injuries Treatment in Jackson
Playing sports has always been an integral part of your life, but injuries can happen no matter how many preventive measures you take. You have probably dealt with your share of sports injuries over the years, which puts you at a higher risk for further injury.
Fortunately, one of the top groups of people that we treat here at 45 Urgent Care, PC are athletes, so we know what's at stake if your injuries do not get the attention they deserve in a timely fashion. Our state-of-the-art urgent care facility treats a wide variety of sports-related injuries including shin splints, tennis elbow, and ACL tears. With no appointment necessary and all walk-ins welcome, you can count on our Jackson urgent care clinic to provide you with the medical attention you need to get you back in the game.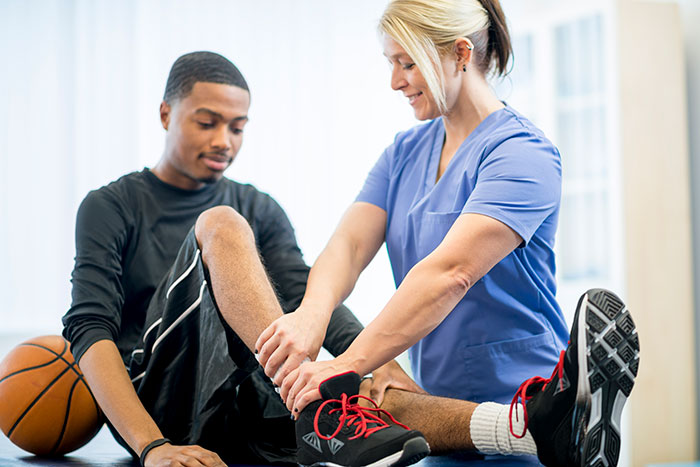 Types of Athletes We Treat Include:
Cross-country runners
Volleyball players
Gymnasts
Soccer players
Wrestlers
Football players
If you are a professional athlete and become injured on the job, the experts at 45 Urgent Care, PC can assist you with your workers' compensation claim!
Fast Care and Effective Treatments for Sports Injuries
Sports injuries are almost impossible to predict, especially when your head is in the game or you are focused on the finish line. In years past, a sports injury often meant the end of a season or even a career, but the amazing team at 45 Urgent Care, PC will do everything in their power to prevent that from happening. Our facility comes complete with digital x-ray technology to help accurately diagnose the type of injury, which allows our knowledgeable staff to implement the most effective treatment plan. We are experienced in pain treatment, fracture treatment, bracing, and splinting, and can help with a wide variety of injuries, including:
Orthopedic injury
Sprains
Shin splints
Broken fingers
Broken wrist
Tennis elbow
ACL tear
Hamstring pull
Groin pull
Tips for Treating a Minor Sports Injury
You can treat many minor sports injuries at home by following the R.I.C.E. method for 48 to 72 hours.
Rest: Injured muscles are the most vulnerable in the first few hours after injury, so avoid moving them and give them time to heal.
Ice: Apply a bag of crushed ice covered by a thin cloth or towel to your injury for 15-20 minutes at a time. Allow your skin to return to normal temperature in between icing.
Compress: Wrap your injury with an elastic bandage to help minimize swelling, prevent fluid build-up, and remind you to keep it still.
Elevate: By elevating an injury above the level of your heart, you can minimize swelling and allow fluid to drain away from the area.
If you are concerned about your sports injury healing properly or if you have a laceration that requires medical attention, please do not hesitate to stop by the quick care clinic at 45 Urgent Care, PC. We can offer you a variety of solutions to help with everything from pain relief to wrapping an ankle sprain.
Call Us Today to Learn More